The GFI Team
The Going For Independence CIC has 7 Directors.
Director Profiles 2023
1        Pam Bennett is the Managing Director and Founder of GFI.
Pam trained and worked as an Architect in the 1970's, developing a passion for accessible environments and the issues facing disabled people and their families, resulting in a significant change of direction into health and social care
Working for Local Authorities, charities and Health Trusts around the country Pam developed services for older and disabled people and from 2006 to 2008 worked in the newly established Central Government Office for Disability Issues (ODI), now (2020) called the Disability Unit.
In 2008 Pam founded the national social enterprise Going For Independence (GFI), a Community Interest Company that works closely with Independent Occupational Therapists and organisations supporting people with disabilities.
GFI specialises in providing information on equipment and adaptations and resources for independent living, local and national support services and community activities for people with sensory loss, and training for businesses and community groups.
 As a consultant Pam has helped to set up a number of charities and businesses with a social purpose, and provides mentoring for business start-ups. She has a severely disabled step-son so has hands-on experience of working with disabled young people.
Going For Independence is currently Social Enterprise in Residence at Teesside University.
 2        Sophie Bishop has a background in working in children's disability services, providing assistance, support and information. Sophie worked in Paediatric services in Teesside and went on a number of sailing trips and outdoor pursuit ventures as a supporter of young disabled people.
Over the last 7 years Sophie has been a project worker and fund raiser in the third sector, with experience in the charitable sector as a project and finance manager, and provides this valuable service as a Director for Going For Independence.
 3        Alan Norton is a specialist in Independent Living, Disability Awareness Training and accessible transport. Alan is located in Manchester and is a skilled budget manager with considerable experience as a Chief Executive in the charitable sector.
Alan is an Advisor to British Government Ministers, and to the Department for Work and Pensions.  He has been instrumental in developing disability services in the UK and Europe. Through nationally recognised Training Delivery, Access Audits and Consultancy services to health organisations and professionals he is at the cutting edge of the disabled and older persons sector working closely with product designers, manufacturers, healthcare professionals, universities and persons with disabilities.
Alan is currently Chair of the Disabled Motorist UK charity and a Board member of Driving Mobility, and MD of Into Independence Ltd.
Alan has been a wheelchair user since childhood, living a very fulfilling independent life in the UK and travelling internationally, making full use of assistive technology.
 4        Christine Walker worked as a disability services commissioner based in the Tees Valley Region. Christine has now retired however she has a wealth of knowledge of local services, sensory impairments and disability awareness training.
Christine is also very interested in the development of art as a means of self-expression and wellbeing for people who are isolated because of their age or loss of independence
 5        David Rose is an experienced Director specialising in Hearing Loss services and until his recent retirement was the chief Executive of Croydon Hearing, a charity providing essential services for the Deaf and hard of hearing, also working with the Croydon Vision charity to support people with dual sensory loss.
David started his career in the Civil Service, and is now acting as a consultant continuing to support the Deaf community, bringing his experience to the work of Going For Independence to ensure people's needs are being met appropriately no matter what their level of ability.
 6        James Kelleher is the CEO of Disability Croydon, a user -led charity providing Advocacy for people with disabilities. He is a retired Barrister at law and former Lecturer in Law and Academic Adviser at London University.
He has spent the majority of his career working with vulnerable people in the areas of mental health, substance abuse, physical disabilities and homelessness working in senior management and as a consultant
As a consultant he has carried out organisational and performance reviews of a wide range of charities, developing strategic and business plans with an emphasis on growth and service development and general troubleshooting.
7  Chris Lofthouse – Chris has been an Associate of GFI since start up and joined us as a Director in early 2022. During Covid Chris worked for us on the ASSC project as a researcher and on project monitoring and evaluation. In 2022 he ran our City Bridge Project taking Blind and visually impaired people for guided walks at the Barnes Wetland Centre. Chris previously worked for many years for RIDC - the Research Institute for Disabled Consumers and brings with him a wealth of information about equipment..

GFI employs Project Workers for specific roles, currently (circa 2023-2024) :-
Leigh Nicholson – Leigh worked for us as Co-ordinator for the Sensing the Wild project which completed in 2021and subsequently on the Audio Support Service Calls (ASSC) Project. Leigh is a Sight Loss specialist assisting us with our services and is developing a " Sighted Guide in the Natural Environment" training course for our 2023-2024 project Sea-ing Sense, funded by the Heritage Lottery. 
Sophie Bishop – one of our Directors, Sophie is currently Project Lead for our Awards For All project  providing  Social Activities for Older and Isolated People 2022-2023, and will also be the Coordinator for the Sea-ing Sense  2023-2024 project funded by the Heritage Lottery. 
Admin, Fund Raising and Bookkeeping is done in house by Directors/ Volunteers
Payroll and Accountancy services are outsourced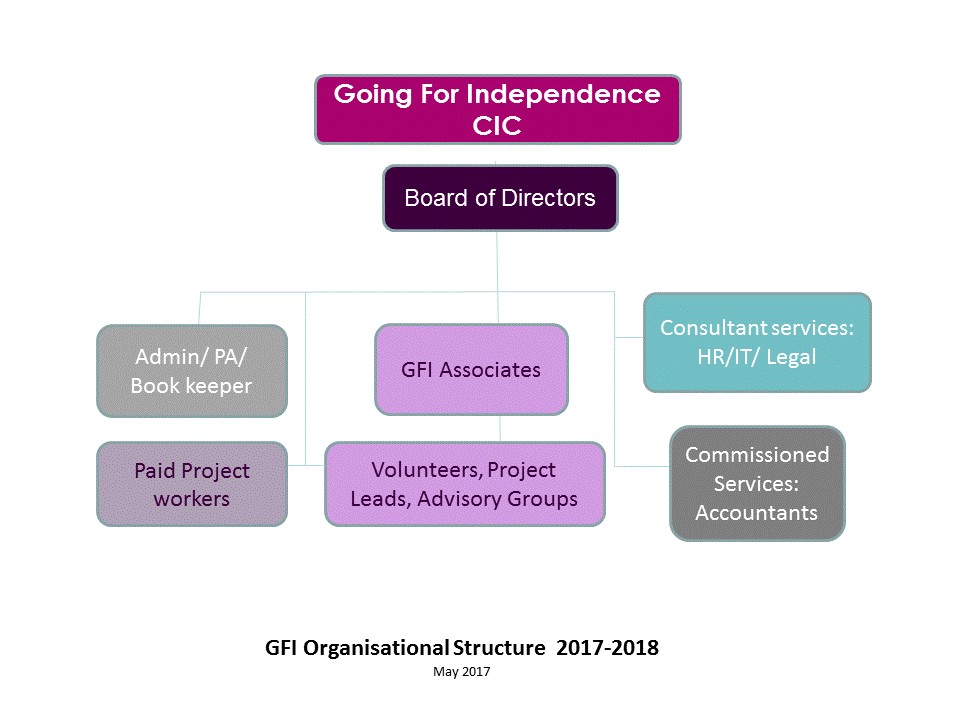 Associates
Yvonne Wynter - Ind. OT
Nery-May Hughes - Ind.Paediatric OT
Jenny Edwards
Advisory group
James Dixon
Elaine Hickmott- Leadership Entrepreneur
Nigel Plummer
Kimberly Barnes
Hayley McCowan
Hannah Clowes